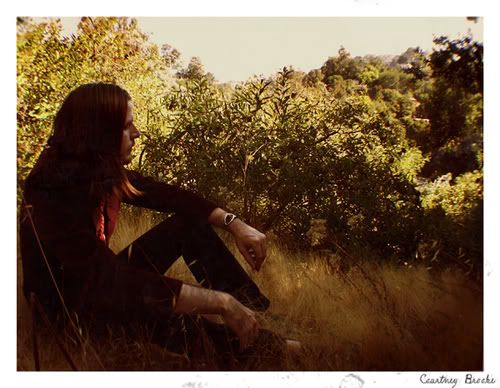 "We met this fellow playing bass for the lovely Jenny Lewis at V Festival, and he gave me one of the best albums I've ever heard, called Gentle Spirit, by him."
- Nick Allbrook,
Tame Impala
guitarist
The internet is such a heavily mapped out place that it's hard for a band to retain any level of mystique or privacy. Yet somehow
Jonathan Wilson
remains a mystery. His fingerprints can be seen everywhere from Jenny Lewis's
Acid Tongue
to Elvis Costello's
Momofuku
and former Jayhawks Gary Louris'
Vagabonds
. The jam sessions held at his former Laurel Canyon residence have been documented in both the
Los Angeles Times
and
Rolling Ston
e. Somehow though, whether on purpose or not, the public acclaim has evaded Wilson. Search for a review of his masterful 2007 album
Frankie Ray
—his only solo work that's been officially released—and you'll find hardly a scrape outside of the local Los Angeles press.
Rumors abound
about the
Emerald Triangle
supergroup, the release date of Wilson's second solo record
Gentle Spirit
and other projects, including a tribute album to the legendary Roy Harper, but concrete release dates don't exist. But maybe it's just part of Wilson's behind-the-scenes strategy, as the work he's been able to help create as a producer, studio and touring musician has yielded some of the most beautiful and organic rock and roll since Joni Mitchell and company first immortalized the Canyon in the 1960s. In a musical era where computers and synthesizers rule, there's nothing more refreshing than the near-
Luddite
quality of Jonathan Wilson's analog recordings.
Directly or indirectly, these songs are all related to Jonathan Wilson and were chosen to reflect the spirit of his music. Download the mix in its entirety as a zip file below.
Jonathan Wilson - "Can We Really Party Today?"
(from
Gentle Spirit
)
Gary Louris - "Black Grass" (from Vagabonds)
Jason Boesel - "Hand of God"
(from
Hustler's Son
)
Jenny and Johnny - "Scissor Runner"
(from
Jenny and Johnny
)
Elvis Costello & The Impostors - "Drum and Bone" (from Momofuku)
Vetiver - "Used To Be King" (from Be Yourself: A Tribute To Graham Nash's Songs For Beginners)
Benji Hughes - "Country Love" (from Sargent Singles: Vol. 2)
The Whispertown 2000 - "Done With Love" (from Done With Love EP)
Jonathan Wilson w/ Andy Cabic - "Desert Raven"
Blake Mills - "Hey Lover" (from Break Mirrors)
Dawes - "Love Is All I Am" (from North Hills)
Jonathan Wilson - "Your Ears Are Burning"
(from
Frankie Ray
)
Jenny Lewis - "The Next Messiah"
(from
Acid Tongue
)
Farmer Dave Scher - "Surf Out Sunset"
(from
Flash Forward To The Good Times
)
Johnathan Rice - "The Middle of the Road" (from Further North)
Espers - "Caroline"
(from
III
)
Jonathan Wilson - "WildFIRE"
(from
Far-Out B-Sides
)
Roy Harper - "Hors d'Oeuvres"
(from
Stormcock
)
Six Degrees of Jonathan Wilson.zip
(photo by
Courtney Brooke
)